Aero Tec Laboratories, an AS 9100C and ISO 9001 company, produces a wide variety of Fuel Cell bladders for Industrial and Military applications requiring fuel for water pumps and emergency generators. Thousands of ATL Industrial/Military Fuel Cells are currently in use worldwide.

Additional applications include main and auxiliary fuel for battle tanks, personnel carriers, trucks, support trailers, UAV control centers, IED-Resistive vehicles, SATCOM trailers, underground mining vehicles, and assault craft. Still other assignments for ATL's safety bladders are in fire, rescue, HazMat and SWAT trucks. Fuel transport delivery is also accomplished readily with ATL's collapsible "pillow" tanks, drums and custom-filled fuel cell bladders.
ATL's Industrial/Military Fuel Cell bladders are highly puncture-resistant, non-exploding and impact-immune. They staunchly protect manned and autonomous vehicles, personnel, bystanders and structures from fuel spills, vapors, fire and detonation. Self-Sealing/Self-Healing BallistiCoat™ and DetonAid™ Tanks are also available from ATL.
Most bladders are outfitted with rugged ASV/MS flanges, safety foam baffling (MIL-B-83054B or MIL-F-87260A), H-D fittings, steel or aluminum enclosures and static charge suppression systems. ATL can provide safety bladders for nearly any fuel, including Jet A, B, 4, 5, 8, 10, Avgas, M85, E85, E15, Mogas, Biodiesel, Diesel, etc.
Special bladder materials available for rocket/missile/torpedo fuels. Specifically: hydrogen peroxide, hydrazine, Otto Fuel II, HAN fuel, JP-8, JP-7, methanol, nitromethane, propane, butane and others.
Need Fuel Cell Design Help? Click Below!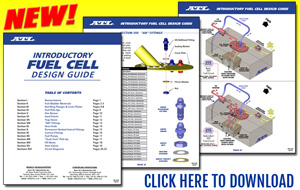 ---