>> ATL Range Extension Fuel Bladder Tank Customers:
"I found Aero Tec Laboratories (ATL), makers of just what I needed. They had been filling this need for the motorsports, aviation, military and marine industries for 45 years. Their informative website and helpful staff made exploring the options painless. I figured the pain would be in the price since it said boat and custom. To my pleasant surprise it was very reasonable and affordable. We immediately ordered a custom 110-gallon fuel bladder. It fit perfectly in our chosen spot on the deck. It lays low on the deck and therefore has a more stable center of gravity..."

- Capt. Scott Goodwin
BDoutdoors.com



---
"When we were looking to extend the range of our team boat we began to research fuel bladder systems. Time and time again ATL was recommended to us. We ended up with a 100 gallon ATL Fuel Locker and could not be happier.

The quality of the product is obvious as soon as you take it out of the packaging. ATL uses nothing but top notch materials and hardware to build a product that should last for many years to come. I would recommend this product to anyone looking to extend the range of their boat."

- Ali Hussainy | President, BDoutdoors.com




BD Outdoors also wrote a product review on ATL's FueLocker Range Extension Fuel Bladder - Click Here to Check it Out!

"The first thing you notice is QUALITY. This thing is built to last and has VERY high end, non corrosive hardware..."
---
"My ATL FueLocker has extended the safe range of our boat by 30%.

It has proven to be durable, safe and easy to use, even in the difficult conditions we see in Alaska. We use it on every trip and has allowed us to reach fishing grounds that are beyond the range of any other boats in our area.

In Alaska, the more remote the location, the more expensive fuel becomes. The ATL Fuel Locker paid for itself in the first season by reducing our dependence on remote and expensive fuel sources.

I would recommend the ATL FueLocker to anyone looking to travel farther between trips to the fuel dock."

- Captain Andy Mezirow | Owner, Crackerjack Sportfishing Charters
---
"ATL Range Extending Bladder Tanks are the perfect option for traveling sportfishing boats needing extra fuel capacity.

Not only are they built extremely well, they are easy to use and easier to stow once the fuel is consumed.

Economically its a great investment for boats traveling to the Bahamas by hedging your fuel cost with the extra capacity purchased with domestic fuel prices."

- Captain Dale Wills | Publisher, InTheBite Magazine | Sportfisherman
---
"Your Portable Fuel Bladders are awesome! I will never again leave port on a "Bluewater" crossing without one as part of my yacht accessory gear.

As you were aware we at Regal Marine Industries were planning an extended Bluewater trip all the way out to the West Indies in the Caribbean starting from Cape Canaveral, Florida. Fuel stops are very scarce between the Exuma Islands and the Dominican Republic which makes trip planning in a 52 foot powerboat a challenge with good weather and seas. Our trip was over 1800 miles in length one way at a Fuel cost of over $13,000. Well I'm back from the trip now and can't say enough about ATL Fuel Bladders as a boating accessory.

The peace of mind your bladder provided with an extra 150 gallons aboard was greatly appreciated. In fact it allowed us to make some side trips to remote anchorages that perhaps only sailboaters find and enjoy! I can truly say that ATL Fuel Bladders helped us find our island paradise, enjoy it and get back without fuel reserve concerns. Not to mention the savings on fuel cost when we were able to buy larger quantities at better prices.

Their ease of use and perhaps more importantly their stowability when not in use were great factors in our choosing ATL bladders for our experience. Using the automatic siphon approach to emptying the tank into the boats own fuel tank was so easy and efficient it became normal routine.

Thanks for providing our industry with a truly useful and rugged niche product that adds value to the Bluewater Boating experience! I will highly recommend your product to our Regal customers in search of a better and safer boating experience!"

- Mark Skrzypek | Engineering Manager, Regal Marine Industries, Inc.
---
"The custom fuel bladder you designed and built for the FREEDOM is perfect!

It fits in the fishbox it was designed for like a glove. It holds 250 gallons filled and empty it folds up and stows away. This will give us peace of mind on those long trips when we would normally have to "stretch" our fuel.

Your product is far superior to others I have used in the past. THANKS ATL!!"

- Captain Albert Miller | ACY 65 Freedom
---
"Here's a pic of the bladder in use on the Maximus. It worked perfect for us!"

- Captain Keith Denette | Owner, Maximus Sportfishing Charters
---
"I was deeply impressed with the Aero Tec bladder. It was well made, well packaged, and complete with all the necessary parts. Usually there's a shopping list necessary to make a bladder workable, but yours included chafe guards, tie down straps, instructions, and everything else save a hose. I'm happy to have it."
- Rock G. | A long-time angler from Santa Catalina Island, California who recently made a round trip from Avalon, CA to Magdalena Bay, Mexico aboard a 73' sportfisher that was equipped with 200 gallon ATL Petro-Flex Range Extension Bladder.
---
"Please thank Craig for helping me with a new ATL 50 gallon FueLocker. We are heading out to San Clemente Island, Ca. tomorrow where I normally would have a bunch of Jerry Cans stored with gas but this morning I filled up my new FueLocker very easily at the dock & I actually am looking forward to re-fueling when we arrive at our anchorage tomorrow afternoon where normally I have dreaded it.

Please send my thanks to Craig as he was very accommodating with my small purchase and he included a great set of back up sun glasses that are just as good as my Maui Jims, so thank you so much for all of that. No more red jugs bungeed on the top of the cabin."
- Steve B. | 50 Gallon ATL FueLocker Owner
---
>> ATL Range Extension Fuel Bladder Tanks - Customer Spotlight:


"As per our discussion, here are a few pictures of our Petro-Flex in use on our Hunter 340, Meand'er, on our way from Vancouver to Cabo San Lucas.
I did the first leg of our trip south from Vancouver BC to Coos Bay Oregon with 4- 20 litre jerry cans. What a royal pain it was trying to fuel with a 6 foot wind wave and a 12-14 ft. swell!!
This 100 litre petro flex effectively doubled my fuel capacity and it fit very well on deck just forward of the cockpit. The low profile did not obstruct my visibility, and even though I did not have a perfect tie down arrangement, the bladder never moved even in the rough stuff that we encountered.
The addition of the short fuel transfer line made refueling painless. When I needed to use my Jerry can supply, I found it far easier to drain them into the petro flex first, instead of hanging off the back of the boat on the swim grid trying to get the spout in the fuel tank.
Thanks for the support! I believe I have a few more customers for you as I keep meeting other boaters with the issues."... - Jim & Sonja
SV Meand'er
---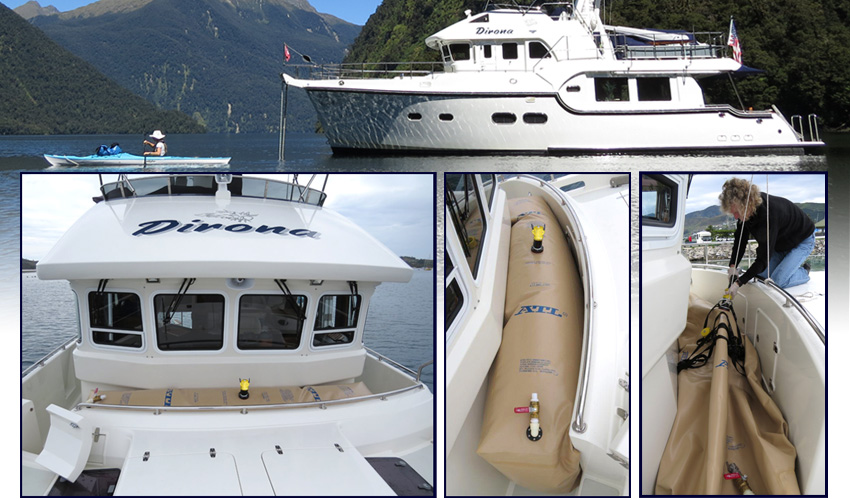 "The trawler community is a good market for you. No question about it. We carry 1,750 gallons without bladders and still need more and went to you folks for help...."
"Here are some pictures of the Forward bladder in use. Filling the Portuguese bow is a very secure location, allows for quite a large tank, and doesn't get in the way much while underway. This takes us from 1850 gallons up to 2210 gallons which can make a pretty big difference for any trawler equipped with a Portuguese bow..."
"We used it to cross the Tasman Sea as a way of testing it -- the distance doesn't require it. Our goal was to ensure it worked and get experience with it before actually needing it. It worked very well. We have pictures of it being filled and in operation. Overall, it's a design we will recommend in that it's 360 gallons in a position that doesn't get in the way and is available in most trawlers like Nordhavns, Seleens, Kady Krogen, etc."... - James Hamilton, "Dirona" - 52 Nordhavn
---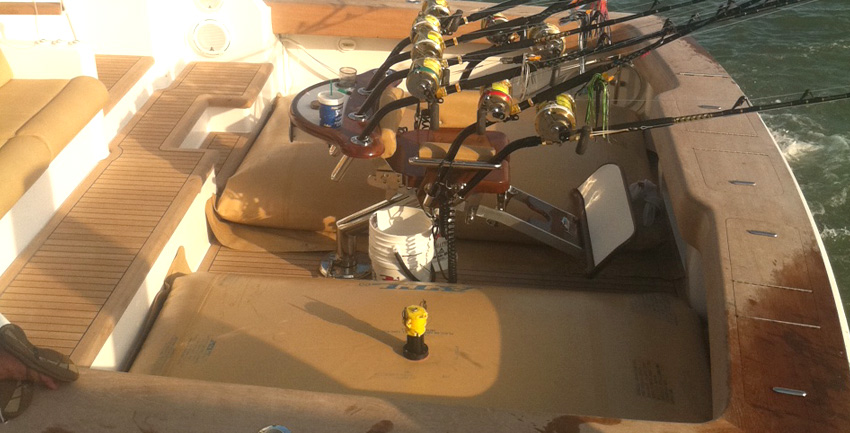 "Tournament fishing the Gulf of Mexico is a long range venture and having the fuel to travel to and from the hot spot is imperative. We used (2) 300 gallon ATL Bladders on our 61' Viking "No Compromise" for 3 tournament seasons. We have upgraded to an 82' Viking, also named "No Compromise" and we are outfitted with (2) 500 gallon ATL Bladders. Having enough fuel to get where we want to fish, and back to weigh is never an issue with ATL!" - Captain Bill Cannan, "No Compromise"
---

"A crucial piece of equipment that we use for travelling and fishing is a collapsible fuel bladder. ATL is the company that everyone I know in the boating industry uses. In fact they are used in many other industries including the military and boat racing. That is because the ability to safely store extra fuel, but gain the ability to roll it up and put the "tank" away once its emptied is priceless. Yes you can put fuel in a 55-gallon drum, but they are awkward to tie down, have a higher center of gravity, and are just as bulky and "in the way" when empty as they are when they are full." - Captain Scott Goodwin | BD Outdoors - CLICK HERE TO READ THE COMPLETE ARTICLE ABOUT SCOTT'S TRIP!
---

"Thanks again for the quick turnaround on our custom bladder! We used it this past weekend in the Biloxi Billfish big game classic.
It allowed us to add 250 gallons of fuel to our 1400 galllons that we carry. This gave us an extra 200 mile range and allowed us to run around the gulf with piece of mind." - Reuben | "Three Chiefs" 52 Cabo Express - Panama City, FL
---

Many police departments rely on ATL's FueLocker fuel bladders to extend the fuel range of their boats while patroling the waters and often during search and rescue missions in remote locations.
---

| | | |
| --- | --- | --- |
| | | |
| Cancun's marina before we left for Key West | Midway between Cancun and Key West refueling. My friend is sitting on top to make the fueling a bit faster. | Everything worked fine. We love the fuel bladder and I would now also like a water bladder. |
---

| | | | |
| --- | --- | --- | --- |
| | | | |
| The ATL FueLocker was placed within the customer's cargo net on the SY's tender and transported to the fuel dock where it was then filled. | Once filled to capacity, the ATL FueLocker was transported back to the SY where it was hoisted on deck. | The fuel siphon was started by applying pressure directly to the bladder. The ATL FueLocker was used to feed the SY's main tanks. | Two 150 gallon ATL FueLockers with protective sun-shields ready for use aboard the 100 foot Sailing Yacht. |
---

"A friend of mine purchased a 59' Marquis in West Palm Beach last year and asked me to deliver it for him. In mid-May of 2012 we went from WPB over to West Bahama Marina, spent the night there and then traveled south around Hole in the Wall and up north to Boat Harbour in the Abacos. We spent the night there and fueled up the next morning for the trip to Bermuda. It took us 76 hours and we got into some sloppy seas the second night. Your bladders, sitting on top of the mats that they came with, stayed exactly in place. The combination of the straps that you supply as well as the mats worked perfectly. Look at the aft bladder….it's on an incline but it didn't move an inch!!! Those things are bullet proof!

800 gals in the main tanks, 650 gals in two 325 gal poly tanks in the cockpit and two of your 150 gal bladders on the bow did the trick. We arrived with about 150 gallons to spare in the main tanks after everything on deck had been transferred."

- Matthew Crumley | Justified 2

Send Us Your Photos - We Love the Feedback! Click Here to email us.
---
>> ATL Range Extension Fuel Bladder Tanks - Internet Chatter:

As Posted in TheHullTruth.com

As Posted in 2CoolFishing.com

As Posted in SportFisherman.com

"The ones from ATL are very well made, with high quality fittings..."

"I can tell you the ATL Bladders are first class and used by the military. When used as intended you will have many years of use out of the bladder tank."

"I don't use one but if I did ATL would be my first choice."

"We just bought (and used) a 50 gal for gasoline) from ATL. Worked as advertised and made a 90 mile one way offshore trip much easier on my mind. They were nice folks to deal with.

"I have the 100 gallon ATL fuel bladder. It's easy to fill with no spewing or spillage. (I only have filled it up to 80 gallons). Great product!"

"I have a 100 Gal ATL, they are built very tough."

"Had an ATL for a few years. Good product."

"ATL is a fine product. I have a 200 gallon unit and ran over 2300 gallons through in the last 2 years, no leaks, no problems."

"ATL builds a really good product. We have had the bladder completely full in 15 ft seas with 25 knots of wind. No matter what you do in those rough of seas everything on the boat is going to move, the fuel in the bladder was sloshing around pretty good but the bladder held great."

"I can carry 150 gallons of fuel safely on deck and after making a 4 hour run, I could keep the boat moving through the water and transfer the fuel to my main tanks. I then roll up the empty bag, place it in the supplied sack and strap it to the roof of my cabin."
---
>> ATL Range Extension Fuel Bladder Tanks - In The News:
As Seen in Southern Boating Magazine |

Click Here to View a .pdf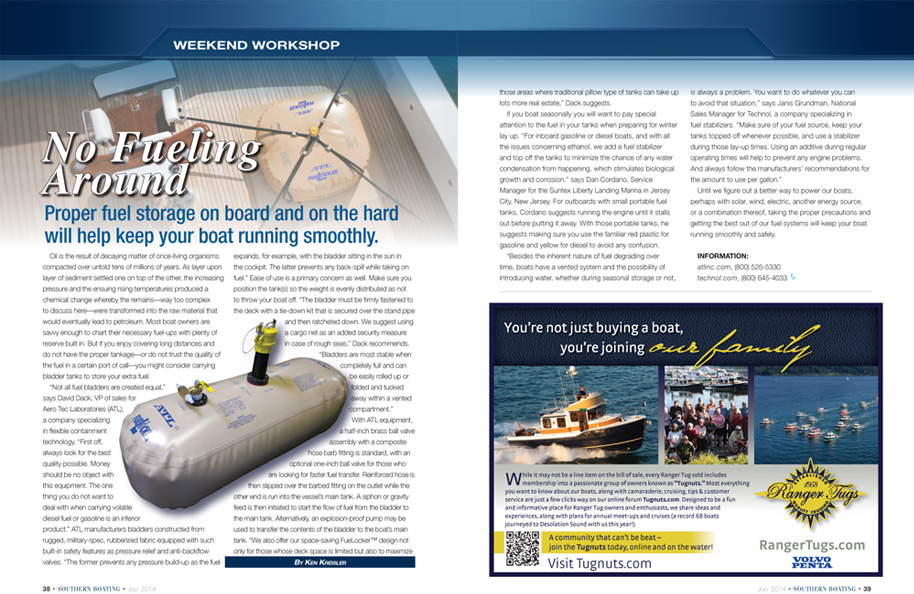 As Seen in Boating Magazine |

Click Here to View a .pdf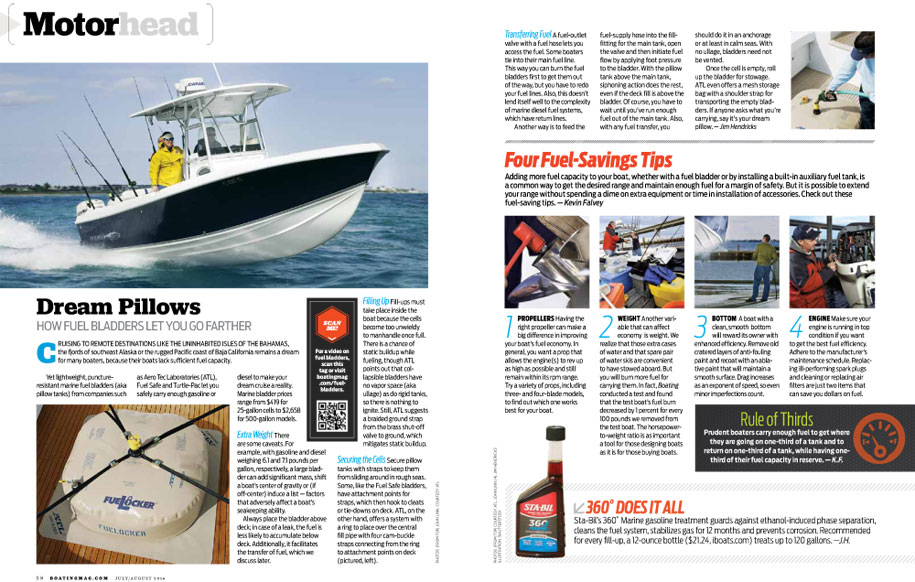 As Seen in Sport Fishing Magazine |

Click Here to View a .pdf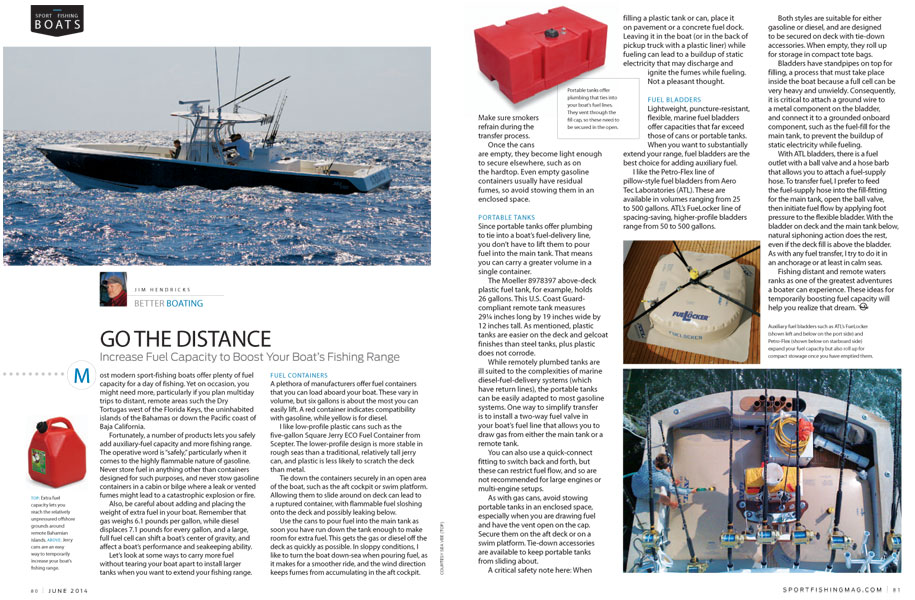 As Seen in Florida Sport Fishing Magazine |

Click Here to View a .pdf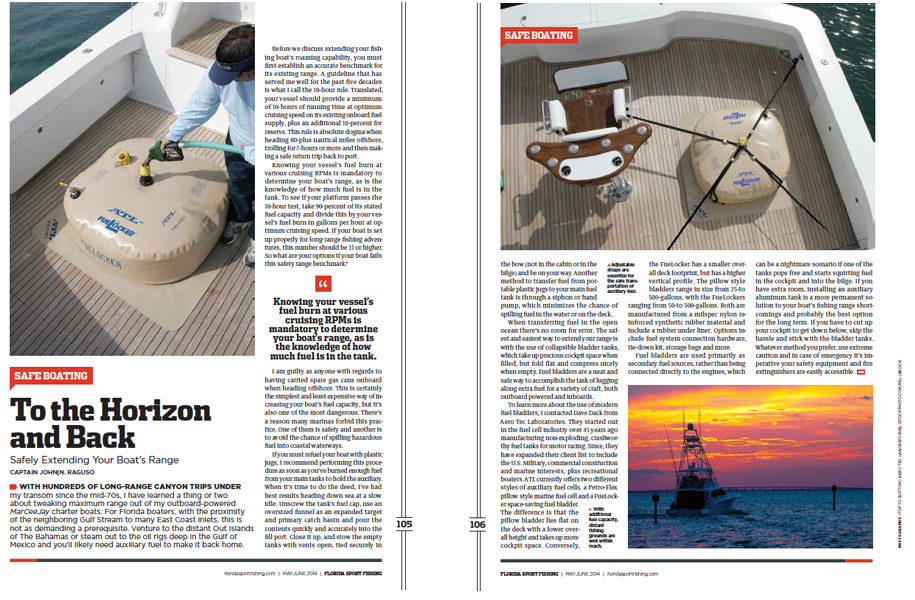 As Seen in Marlin Magazine |

Click Here to View a .pdf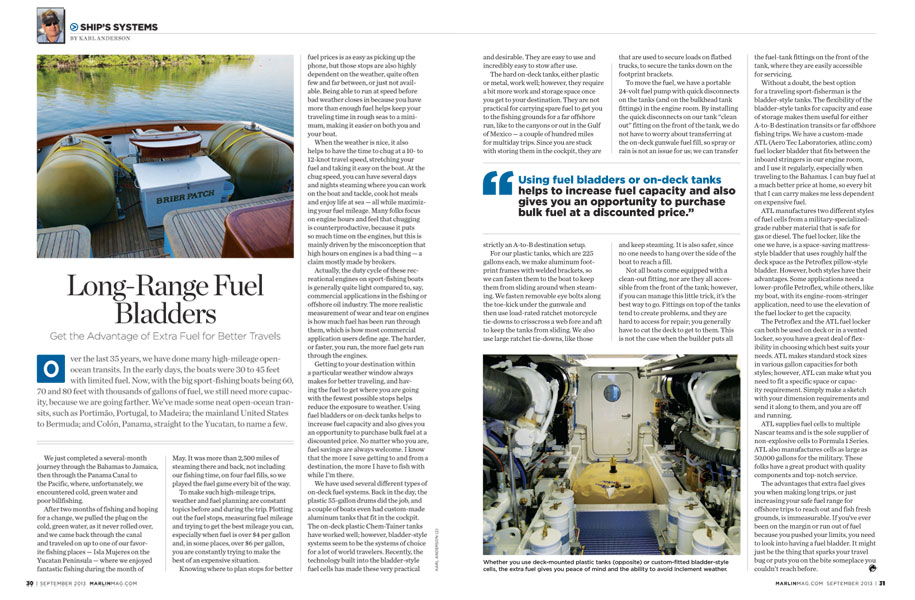 | | | |
| --- | --- | --- |
| As Seen in Sport Fishing Magazine | As Seen in Patriot Press | As Seen in Florida Sportfishing |
| | | |
ATL Fuel Bladders - Proud Sponsor of the 2012 Bermuda Triple Crown Series

The Bermuda Triple Crown Billfish Championship includes nine days of fishing during three major Bermuda-based billfish tournaments, including the Bermuda Billfish Blast, Bermuda Big Game Classic and Sea Horse Anglers Club Billfish Tournament. The points earned at each event follow the boat, crew and anglers, with the winners receiving an incredible prize package. A total of 162 billfish, 93 blue marlin and 69 white marlin were caught during the series. The quality fleet of 40 boats in the 2012 BTC made for a very competitive down-to-the-wire finish, with team Fa-La-Me owners Frank and Mary Ellen Rodriguez, Capt. Rob Moore, mate Jon Meade and teammates Taylor and Tyler Beckford scoring four whites in the Blast, three blues and two whites in the Classic and two blues and one white in the Sea Horse for a total of five blues and seven whites, 3,900 points and $226,575 in cash winnings and $50,000 in prizes during the series. Team Fa-La-Me received a fantastic Bermuda Triple Crown prize package including custom Vanmark gold championship rings, Garmin chart plotter and GSD 26 sounder, Airmar transducer, custom Release Marine step box, Geoffrey Smith sculptures, King Sailfish Mount trophies, Costa sunglasses, ATL fuel bladder, Fin-Nor rod and Marquesa reel combos, Steve Goione Triple Crown artwork, Bacardi Rum, Bonze lures, Mold Craft lures, Fathom lures, Bubba Blade, AFTCO championship apparel, gloves, bucket harness, and gaff. Hard-charging team Bree scored 3,800 points for second, with Over Budget ending up in third overall with 3,100 points in the Triple Crown series.

ATL Fuel Bladders - Proud Sponsor of the 2011 Bermuda Triple Crown Series

In a down to the wire finish team Fish On with owner angler Rob Kathary, Captain Elliot Cline, mate Pat Nelson and teammates Parker Stephen and Chuck Warden took advantage of every bite to catch a record six blue marlin in the Sea Horse tournament scoring a total of 4,000-points in the series to earn the 2011 Bermuda Triple Crown Billfish Championship. The Captain, mate and five high-point anglers receive a Championship Ring from Vanmark Jewelry, Geoffrey Smith Bronze Sculpture, King Sailfish Mounts Trophy, FinNor Rod & Reel combo, Montauk Tackle Championship Apparel, Custom Lures and Pliers from Fathom Offshore, Championship apparel from Pelagic Gear, Custom Mold Craft Lure, Triple Crown artwork from Steve Goione and one year subscriptions to Marlin and Sport Fishing magazines. The boat also received a Release Marine Custom Step Box, ATL fuel bladders, Custom Montauk stand up rod and Bacardi Spirits gift basket. Finishing second was Uno Mas with 3700-points followed by Georgie Girl with 3700-points. Congratulations to Fish On our 2011 Bermuda Triple Crown Billfish Champions.
---


>> ATL Marine Fuel Bladder Tank Customers:
"Scott Free Racing relies on ATL Fuel Cells to withstand the harsh ocean conditions our boat is put through. ATL provides our team with a lightweight, durable product allowing for overall performance improvement on the water.

We would not trust any other company than ATL to contain our fuel supply during a race "

- Stephan Kildahl | VP/Driver | Scott Free Racing
---
"ATL were the original suppliers of our flexible fuel cells 7 years ago.

When it was time to replace the originals, I called ATL and they still had the original drawings to manufacture the new cells within a fortnight of placing the order – great service!"

- Chris Sherlock | Captain, Leopard3 | Ocean Marine
---
"We have refitted several American Custom Yachts with ATL cells over the past few years.

Our custom high performance sportfishing boats are built to exacting specifications to withstand extremely rough seas and harsh conditions and we demand reliable products.

Aero Tec Laboratories has delivered for us every time."

- Dominick LaCombe | President, American Custom Yachts
---
"We have worked with ATL and incorporated their products in various Combatant Craft over the past 17 years.

We have seen continuous improvement in their products through the years, in order to ensure the best product for their customers."

- Barry Dreyfus, Jr. | CEO of United States Marine, Inc.
---
"Having the freedom of component options when designing high speed vessel's is a must, and this is evermore critical in fuel tank design.

With the ATL proven system we have the ability to analyze the benefits of bladder tanks over traditional metallic or fully integrated tanks on a project specific bases, all the while knowing that the quality and durability of the ATL products are never questioned.

To date we have trialed and tested ATL tanks on a array of platforms and we will continue to do so."

- Andrew S.N. Lea - B.Sc. Msname Masne | ADMShipyards
---
"Mystic Powerboats Inc. has used ATL fuel cells exclusively in it's offshore race boats from inception.

Their technical expertise and manufacturing quality makes it the only tanks to live up to our high standards.

All of the tanks built for our boats have been created from CAD files and have fit every boat perfectly, even with the custom shapes of our various tanks.

In short the ATL fuel cells are our only choice for the fastest catamarans in
the world."

- John Cosker | Mystic Powerboats Inc.